The rather late and slightly all over the place Barcelona season preview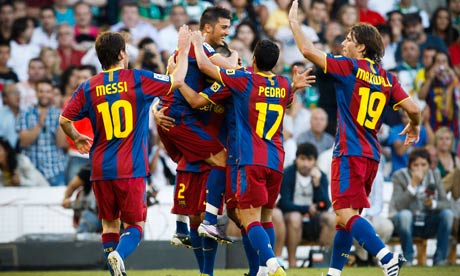 So Zlatan Ibrahimovic is
back in Milan
. Little over twelve months after his arrival from the Nerazzurri for
€69 million, he's been loaned (!) out to the Rossoneri, who have the 'option' to buy him next summer for €24 million. Yes, you read that right. A player who cost €49 million in cash plus Samuel Eto'o has just walked for nothing with the prospect of clawing back just over a third of what they paid for him.
Add in his wages (an astronomical €16 million per year) and you're up to €85 million. With this sort of business being the norm (see Chygrynskiy, Caceres, Hleb, Henrique and Kerrision for further examples of same), it's no wonder the club is almost half-a-billion Euro in the hole. Short of throwing the money into a skip it's hard to conceive of a way they could have burned through so much and gotten so little in return.


On the pitch, Zlatan, while staring like a freight train, struggled to adapt his style of play to that of Barcelona. Dropped in favour of Bojan down the home stretch, the team played far more fluid, incisive futbol without him and though he scored some very important gols (Real, Arsenal, Stuttgart and Mallorca all come to mind), he would finish with just sixteen in La Liga, having a particularly barren spell in the lead up to and after Christmas. Rather than going over old ground and talking about square pegs in round holes, I'll just say this...


He's a very good player and his move to AC Milan immediately turns them into contenders in Serie A, where he has really proved himself. But he was never right for Barça and once the signing of David Villa was completed he was always likely to leave if they could find someone to take him off their hands.


Sid Lowe has an
excellent piece
in The Guardian today about Zlatan's move. I recommend reading it.
The great destroyer
Andoni Zubizarreta's outbox was rather full these last few days. In addition to our number nine, disaster prone Uruguayan hot head Martin Caceres has been
loaned out to Sevilla
(with a Zlatan-style option to buy him at a knock down price of €4 million. He was bought for €15 million...) Victor Sanchez, who I like but who never quite made the grade in a Marc Crosas sort of way, has
gone to Getafe
. Passing that lot on the stairs going the other way is
Javier Mascherano
. Previously lonely in Liverpool, staring out at the rain, writing poetry and slamming doors while shouting "I hate you!" at Roy Hodgson, Masch essentially forced Liverpool's hand by refusing to play against City last Monday night.

He completed his
medical
today and will be presented at 6pm Barcelona time. I expect he'll get the number 14 jersey, the number 4 still pining for Cesc Fabregas.
Mascherano is a fine player, if an argumentative, mouthy sort. I saw him in the flesh for the first time a playing for Argentina at Lansdowne and could really appreciate just how good he is at tackling and reading the game. That said, I'm not sure how much of an upgrade his (if any) on the recently departed Yaya Toure or indeed if he's any better than the constantly improving Sergio Busquets, who had a fantastic World Cup. I'm also curious to see how much he plays and if like Yaya, he gets fed up sitting on the bench because surely if Busquets, Xavi and Iniesta are all fit he won't start.


Kick off
And so to a short preview of the 2010/11 season at the Camp Nou (written before and indeed during last night's
0-3 win
at Santander) There are many reasons to approach this season with hope of continued success. Despite the club's precarious finances, the core of the team is the same as last year's record breaking ninety-nine point season. Those who have left (Yaya, Titi, Rafa Marquez and Chygy) didn't play that often and were very much on the periphery of the team. Zlatan has been effectively replaced with David Villa, how is the finest centre forward in La Liga. Guardiola is still in charge and I expect him to have a good relationship with Zubi and Amor. Barça B have been promoted to the Segunda (they started with a fine win on Saturday, 1-2 away to Celta Vigo) and there are quite a few of that team who would be looking to break into the senior side (Fontas and Thiago Alcantara would be my tips). Plus they have
Leo Messi
.


The only challenge to Barcelona in La Liga will come, as ever from Madrid. Real finally have the coach they want in Jose Mourinho and have once again added significantly to the playing staff (Ozil, Khedira and Sergio Canales are all brilliant signings) and they may still get Maicon, who's been
left out
of the Inter squad for their game against Bologna today. Real were just three points shy of Barça last time out and lost both classicos. Much depends on how hard they go after the European Cup. Being dumped out of the Copa Del Rey and the Champions League helped them push Barcelona as close as they did, having only one game per week from mid-March.
I think Barça will win La Liga again, probably with about 90 points.

Outside of the top two, Valencia are certainly weaker than last year but they've held onto Mata, Banega and Pablo Hernandez and the arrivals of Aduriz and Soldado will, I feel, prove to be successful. Sevilla are still very strong though their failure to qualify for the Champions League leaves them looking to sell and Luis Fabiano is first in line to depart. They probably wouldn't replace him either leaving them pretty short up front. I can see Atleti, who have held onto their best players and added Filipe Luis from Depor and Godin from Villarreal, having a run at the top four, they're certainly good enough. After that though, there's a noticeable drop off in quality. Bilbao are a solid side but neither Mallorca, who are broke, or Villarreal, who's squad is very thin, are in a position to scale the heights of last season.


At the other end, Hercules, Levante, Racing Santander, Saragossa and Malaga will all struggle.
Finally, five players I reckon are worth watching and who may have break-out seasons. In no particular order:
Filipe Luis
at Atleti
Jeffren
at Barça
Michel
at Depor (on loan from Valencia)
Jordi Alba
at Valencia
Musacchio
at Villarreal