Ain't it funny...

As of early this afternoon I was all set to post "what the hell is going on with the signing of Dani Alves?" Despite being confirmed by the player himself weeks ago neither Barça nor Sevilla had made any official announcements and being the worrying type I started to get all antsy. When Keita and
Cáceres had their official unveilings in the past few day I got even more like a kid who can't sleep on Christmas night.

But all that's been dispensed with now. As of about three o'clock Daniel Alves is a blaugrana and everyone else best get out the way. Signing a four year deal that is initially for €29.5 million, rising to as much as €36 million should Guardiola's side win either La Liga or the Champions League, he's worth every penny.

Watching Alves play for Sevilla these past few years has been like watching a thoroughbred race horse gallop down the closing stretch. Pace, power, fitness, a willingness and a determination to get over the line. In addition to incredible skill and real grit, Alves has all of these in spades. He would improve any team the world. I simply cannot think of a more complete modern right back. Expect him to be a revelation.

Before we move onto one Anderson Luis de Souza and his departure to the Bridge it's worth mentioning the other Brazilian full-back at the Camp Nou, Sylvinho. Despite turning thirty four in April he's been given a new one year contract to see him through until June 2009. Given Abidal's fall from grace and shocking displays at the European Championships he could be given quite a bit of playing time in the coming season.
Is that top Deco or bottom Deco?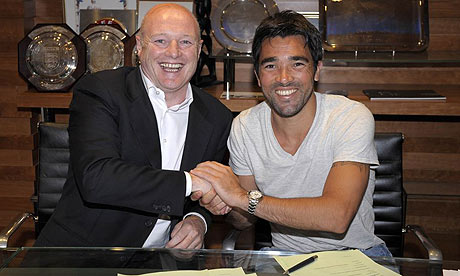 And so it begins. The first of what will presumably be three departures, Eto'o and 'dinho of course being the others, of the barometer of the Rijkaard era. Off to Chelsea to for a fee rumoured to be €8 million. He's signed a two year deal. Much in the same way as Alves is the very definition of the modern full-back, Deco is the leader of the nu skool when it comes to the number ten. Mobile, strong and agressive in the tackle, his running, positioning and passing are such that, even in a midfield with such exceptional players as Xavi and Iniesta, he completely controls the pace and flow of the game. Given his displays for Portugal this past month, coming on the back of a difficult final season in Catalunya (not just on the field, his marriage also ended in divorce mid-2008) and his relationship with the new Chelsea coach, Phil Scolari, I see him being a huge sucess in England and I think that much like Ludovic Giuly the season before last, letting him go is a mistake. But then making mistakes is what Mes Que un Club excel at...

Also out the door and with much less fanfare are Old Man River Lillian Thuram and Basque forward Santi Ezquerro. Thuram, signed along with Gianluca Zambrotta from Juve two seasons ago, looked all set to sign for PSG before he failed a medical. Given his age (one hundred and thirty six), retirement looks very likely. Thuram's time at the Camp Nou can be neatly summed up in one word, disaster. If you're in need of a second you might want to preface that with either complete or fucking. Moving more slowly than the rate that most galaxies expand, Thuram, once upon a time one of the finest defenders in Serie A (both at Parma and Juve alongside Canna), was well past his imperious best when he pitched up at Barcelona. Frequently caught out by pacy young attackers, he was worth at least one calamity per game, sometimes two. Thank Christ he's gone.

Santi on the other hand hardly ever got the chance to make a bags of things. The leading scorer in a solid if unspectacular Bilbao side, his time at Barça was mostly spent in the stands or on the bench. I like Santi a lot, he never complained about his lack of playing time and always put the effort in when he did play. He was also very popular in the dressing room. There's no word yet on where he may go next.

Finally, before I get to bed, three items of note. One, former Barça assistant coach Henk Ten Cate has taken over as coach of Greek side Panathinaikos. Two year deal. Look for fringe blaugrana, Chelsea and Ajax players to be linked with moves to Athens within the next few weeks. Two, Ronaldinho to Milan seems to be back on. And three, Xavi, in addition to winning the European Championships, is also crowned the tournament's best player. He well deserves it. Bona Nit.